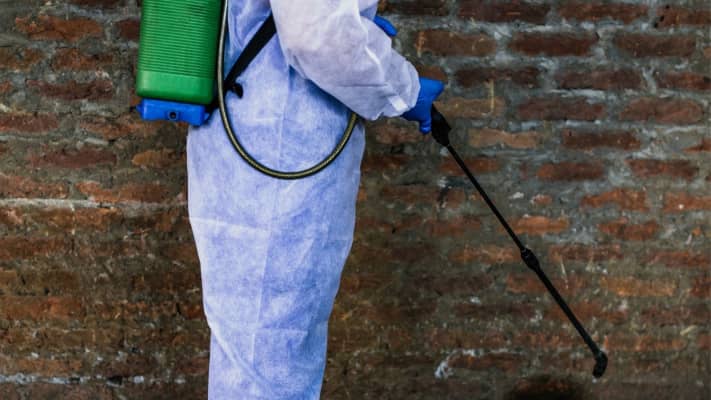 Find, compare, and hire
Get
3 free quotes
From
vetted Exterminators Pros near you
With

excellent reviews - 5 ★ average



Let's get you a few quotes from
Exterminators Pros in Roodepoort
Exterminators Pros in Roodepoort
Get 3 free quotes from vetted professionals rated an average of 5.0★
What kind of extermination service is needed?
Are you a service provider? Click
here
The Kandua Pledge
Background Checked
Look out for the badge at the top of each exterminators pro's profile.
Vetted
Exterminators Pros on Kandua are all qualified. Ensuring the highest standard of work, we double check references of previous work.
Reviewed
Each service provider is reviewed by people in your community. Our exterminators pros hold 4.5 stars on average.
Learn how we vet our pros for quality…
Get free quotes in 60 seconds
What kind of extermination service is needed?
Are you a service provider? Click
here
What can you expect from a professional exterminator?
If you are dealing with some unwelcome intruders in your home, a professional exterminator can help you get rid of the pest infestation.
Your exterminator will know what methods are the most effective for various kinds of pests, whether that be termites, ants, cockroaches, rats, bedbugs or others.
The process will usually start with a thorough investigation of the areas inside and outside of your home where you suspect the pests are living or where they may be coming from.
Then, your exterminator will usually spray an insecticide or a pesticide in the affected area, bait the nests or set traps.
For really bad infestations, your exterminator may advise you to seal the premises and have it gassed.
It is important to speak to your exterminator about how to keep pets and small children safe when an extermination is going on because many of the poisons used are harmful to other animals and humans.
Other exterminators requests on Kandua
<
I am in a frestanding semi in a complex. I assume the ant problem is affecting the whole complex but need my own house and yard fumegated
in Honeydew Ridge, Roodepoort
I live in a complex attached to another unit. Both have cockroaches but my neighbor doesn't want to be involved. Need a service that will work
in Constantia Kloof, Roodepoort
Birds on flat roof, preferably add strong net on flat roof to prevent birds from sitting/nesting there
in Eagle Canyon, Roodepoort
I have an issue with mosquitos that are breeding in my garage. Need urgent assistance with that
in Ferndale, Randburg
Hi there, I need a termite control inspection quote at my house in Northcliff next to fairland. I'm not sure if we have termites, need confirmation Thank you
in Northcliff, Randburg
I want to get rid of ants outside the house in the garden and surrounding areas. I also want to fumigate / control flies and other flying insects round the house
in Douglasdale, Sandton
Drill outside to get to the root of the termites as they are now full outside the yard and are making their way into the house.
in Mamelodi S&S, Mamelodi
Would like to fumigate house as well as treat outside. it looks like there might be an ant hill outside on my sidewalk in the electricity box.
in Strubensvallei, Roodepoort
Rat in the cieling suspecting that the rat entered through the roof as the ceiling is sealed with no way of entry
in Amorosa, Roodepoort
I need pest control to get rid of cockroaches in my 2 bedroom apartment ( kitchen and preferably a living area)
in Honeydew Ridge, Roodepoort
I am in a frestanding semi in a complex. I assume the ant problem is affecting the whole complex but need my own house and yard fumegated
in Honeydew Ridge, Roodepoort
I live in a complex attached to another unit. Both have cockroaches but my neighbor doesn't want to be involved. Need a service that will work
in Constantia Kloof, Roodepoort
Birds on flat roof, preferably add strong net on flat roof to prevent birds from sitting/nesting there
in Eagle Canyon, Roodepoort
I have an issue with mosquitos that are breeding in my garage. Need urgent assistance with that
in Ferndale, Randburg
Hi there, I need a termite control inspection quote at my house in Northcliff next to fairland. I'm not sure if we have termites, need confirmation Thank you
in Northcliff, Randburg
I want to get rid of ants outside the house in the garden and surrounding areas. I also want to fumigate / control flies and other flying insects round the house
in Douglasdale, Sandton
>