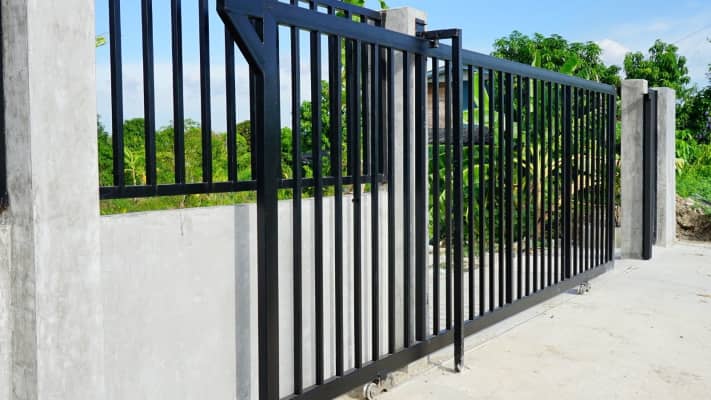 Find, compare, and hire
Get
3 free quotes
From
vetted Sliding Gates Pros near you
With

excellent reviews - 4.7 ★ average



Let's get you a few quotes from
Sliding Gates Pros in Cape Town
Sliding Gates Pros in Cape Town
Get 3 free quotes from vetted professionals rated an average of 4.7★
Which suburb are you based in?
Are you a service provider? Click
here
The Kandua Pledge
Background Checked
Look out for the badge at the top of each sliding gates pro's profile.
Vetted
Sliding Gates Pros on Kandua are all qualified. Ensuring the highest standard of work, we double check references of previous work.
Reviewed
Each service provider is reviewed by people in your community. Our sliding gates pros hold 4.5 stars on average.
Learn how we vet our pros for quality…
Narrow your search
What materials can be used for sliding gates?
Sliding gates are typically made out of iron, steel, aluminium, wood or a combination of these.
Sliding gates can either be wheel-mounted on a sliding track, which is the traditional design, or can be a cantilevered gate where the gate is supported by rollers and stays suspended whether opened or closed.
Save yourself a lot of hassle by also getting an automatic gate motor installed when you install a sliding gate.
Why have a sliding gate professionally installed?
A sliding gate is great if you have a short driveway because it does not take up space in the driveway to open.
Many issues with sliding gates are as a result of poor installation: tracks need to be laid straight, the chance of debris gathering on the track needs to be minimized, the gate weight and motor strength need to match up and the track needs to be level.
These are not easy things to achieve and you will thank yourself later that you left the job to the pros!
Find sliding gates in the City of Cape Town area:
Other sliding gates requests on Kandua
<
Please refer to the attached dimentions in the photo. The garage door is working 100% perfect, but the new tenant wants the metal door (Aluzinc)as the existing wooden panel has got partly damaged. So I would like to use the existing motor,side tracks, torsion systems, remote system, so your best economical quote would be appreciated so much. My Cape Town CBD building has own parking bays,the working space is ample, easy to work. Thank you. Michi
in Cape Town
Customized large Aluminium double entry garage tip up Non standard size 4860mm X 2300m ET advance (1000N) garage motor with backup battery Fitment of garage door and frame and motor Charcoal poxy aliminum glaze as per regulations Caravan Height Overhead Slide Slatted - Horizontal Patterned Sectional Non Standard Size Smooth Finish
in Cape Town
caravan height 3.7 x 2.1 aluzinc slatted horizontal pattern non standard size no motor charcoal
in Cape Town
Motor running on battery only despite being plugged into the main supply
in Noordhoek, Cape Town
Door starts to open then after a little bit it beeps and begins to close again
in Bishopscourt, Cape Town
Gate motor beeping several times then only opening a small amount and closing
in Rondebosch, Cape Town
I have a manual garage door that I need it to be automatic. How much will it cost me? Will the whole garage door be replaced or there is a device or machine that can be setup to make that manual door automatic
in Cape Town
I have a single remote controlled garage door. I wish to replace both the motor and door. 1.8meters height and 2 meters width.
in Cape Town
I am in Western Cape I need a quote on a sectional white double aluminium garage door with 4 windows on the top panel. I need it with a new motor, four remotes and an override battery. please just email me the qoutes as I am not available on call or whatsapp
in Cape Town
I am in western cape looking for a quote to give to my insurance to replace the motor only.
in Cape Town
Please refer to the attached dimentions in the photo. The garage door is working 100% perfect, but the new tenant wants the metal door (Aluzinc)as the existing wooden panel has got partly damaged. So I would like to use the existing motor,side tracks, torsion systems, remote system, so your best economical quote would be appreciated so much. My Cape Town CBD building has own parking bays,the working space is ample, easy to work. Thank you. Michi
in Cape Town
Customized large Aluminium double entry garage tip up Non standard size 4860mm X 2300m ET advance (1000N) garage motor with backup battery Fitment of garage door and frame and motor Charcoal poxy aliminum glaze as per regulations Caravan Height Overhead Slide Slatted - Horizontal Patterned Sectional Non Standard Size Smooth Finish
in Cape Town
caravan height 3.7 x 2.1 aluzinc slatted horizontal pattern non standard size no motor charcoal
in Cape Town
Motor running on battery only despite being plugged into the main supply
in Noordhoek, Cape Town
Door starts to open then after a little bit it beeps and begins to close again
in Bishopscourt, Cape Town
Gate motor beeping several times then only opening a small amount and closing
in Rondebosch, Cape Town
>