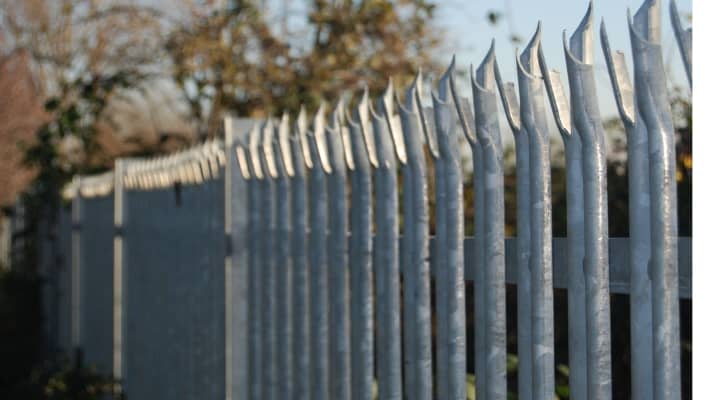 Find, compare, and hire
Get
3 free quotes
From
vetted Steel Palisade Fencing Pros near you
With

excellent reviews - 4.7 ★ average



Let's get you a few quotes from
Steel Palisade Fencing Pros in Johannesburg
Steel Palisade Fencing Pros in Johannesburg
Get 3 free quotes from vetted professionals rated an average of 4.7★
Which suburb are you based in?
Are you a service provider? Click
here
The Kandua Pledge
Background Checked
Look out for the badge at the top of each steel palisade fencing pro's profile.
Vetted
Steel Palisade Fencing Pros on Kandua are all qualified. Ensuring the highest standard of work, we double check references of previous work.
Reviewed
Each service provider is reviewed by people in your community. Our steel palisade fencing pros hold 4.5 stars on average.
Learn how we vet our pros for quality…
Get free quotes in 60 seconds
What kind of fencing service do you need?
Are you a service provider? Click
here
Why Choose Steel Palisade Fencing Above The Rest?
Physical deterrence: Palisade fencing is a great physical deterrence that has proven to be one of South Africa's most popular security fencing solutions.
Strong and durable: Cutting or bending steel palisade fencing requires power tools in most cases and a considerable amount of effort.
Difficult to Climb: Steel palisade fencing makes it incredibly difficult for intruders to climb, and that is all thanks to the sharp spikes on top. Having the lengthier panels together with electric fencing provides even more resistance.
High rust and corrosion resistance: This allows the fencing to last longer than other fences made from other materials.
How Secure Is Steel Palisade Fencing?
Palisade fencing is built with decent, sturdy security in mind. For additional and maximum protection, there are often vertical joists which can feature a point, which makes the fence very difficult to climb without the risk of injury.
A popular option for enhanced security is to install steel palisade fencing topped with an electric fence.
This fencing needs to be installed by a professional, to ensure that better durability and a sturdy barrier.
Other steel palisade fencing requests on Kandua
<
It's just for my dog, so a small part of the yard is fenced off for him
in Johannesburg
NB I am not in Johannesburg I am in Free state. I want to fence a yard , of 300 metres in the community , looking for something cheap but strong Which will also allow for good visibility I am looking for something of clear vu type but if there is a cheaper alternative as clearvu is quite expensive and out of our community's budget
in Johannesburg
There's a existing school fence(normal wire fence) that has to be removed and a new palisade fence to be installed the whole circumference of the school 900 metres
in Johannesburg
need fencing erected in front yard of apartment building with electric gate for vehicles and pedestrian gate. black colour
in Northcliff, Randburg
I need a sturdy fence to keep my basset hound safe. It will need to be a metre plus high. She is very strong and so it needs to be able to withstand a weight of 18 kgs pushing heavily against it. Thanks
in Bergbron, Randburg
they tried to break into my property. Front part of my fence is torn dowm from tbe wall
in Kraaifontein, Cape Town
Supply and install PVC Picket fences for a Estate. 400 m (L) x 1.5 m (H) + 28 x 1.5m x 1.0m entrance gates.
in Johannesburg
Installation of Diamond razor mesh,height=2,4 meters and install razor wire barbed tape concertina(730mm) around the fences. Diamond razor mesh must be installed on the gates aswell.They is an existing mesh fencing, some poles need to be replaced Following reservoirs and distance of fencing: 1.Kortbegrip=364m 2.Monakato=310m 3.Spitskop=286m 4.Phatsima=360m 5.Elandsfontein=250m 6.Mogwase=220m 7.Tuschenkomst=357m 8.Bospoort=80m
in Johannesburg
I wanted to install palisade size 17 m long and 1m high on wall... I would want it done as soon as possible
in Johannesburg
I need 40X40X3 Hot Rod Palisades 100mm spacing, wide by 3M panel. 80 panels, how long would you take to deliver
in Johannesburg
It's just for my dog, so a small part of the yard is fenced off for him
in Johannesburg
NB I am not in Johannesburg I am in Free state. I want to fence a yard , of 300 metres in the community , looking for something cheap but strong Which will also allow for good visibility I am looking for something of clear vu type but if there is a cheaper alternative as clearvu is quite expensive and out of our community's budget
in Johannesburg
There's a existing school fence(normal wire fence) that has to be removed and a new palisade fence to be installed the whole circumference of the school 900 metres
in Johannesburg
need fencing erected in front yard of apartment building with electric gate for vehicles and pedestrian gate. black colour
in Northcliff, Randburg
I need a sturdy fence to keep my basset hound safe. It will need to be a metre plus high. She is very strong and so it needs to be able to withstand a weight of 18 kgs pushing heavily against it. Thanks
in Bergbron, Randburg
they tried to break into my property. Front part of my fence is torn dowm from tbe wall
in Kraaifontein, Cape Town
>