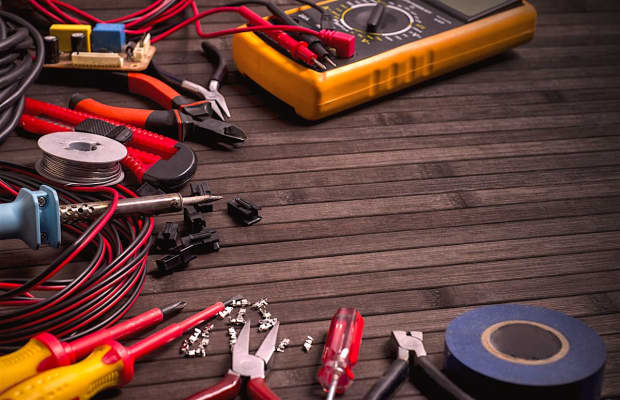 Find, compare, and hire
Get
3 free quotes
From
vetted Electricians near you
With

excellent reviews - 4.9 ★ average



Let's get you a few quotes from
Electricians in Roodepoort
Electricians in Roodepoort
Get 3 free quotes from vetted professionals rated an average of 4.9★
What type of electrical work do you need done?
Are you a service provider? Click
here
The Kandua Pledge
Background Checked
Look out for the badge at the top of each electrician's profile.
Vetted
Electricians on Kandua are all qualified. Ensuring the highest standard of work, we double check references of previous work.
Reviewed
Each service provider is reviewed by people in your community. Our electricians hold 4.5 stars on average.
Learn how we vet our pros for quality…
Get free quotes in 60 seconds
What type of electrical work do you need done?
Are you a service provider? Click
here
Narrow your search
When should you call an electrician?
If you have electrical circuit breakers that frequently trip, or fuses that blow too often, it could be time to hire an electrician.
If the lighting in your house is flickering or dimming unexpectedly - especially when appliances are being used - then we'd suggest contacting a Kandua electrician.
If you have power points or power boards that are overloaded and causing you trouble, it would be best to get the electrical wires analysed by an electrician. An electrician can create additional circuits, and ensure that your electrics are safe and secure.
If you need plug points changed or added to a property. Also, if you need lighting or switching to be installed safely and securely. We strongly advise using a qualified electrician to install any additional plugs, switches or lighting.
If you have switches or power points that that are warm to touch or give off a small electric shock when touched, then you should find an electrician near you.
If you are looking to get an electrical compliance certificate for your residential or commercial property.
Other electrician requests on Kandua
<
I need a COC for a flat. The stove has two platea tgat's not working needs fuses and two or three knobs for the plates are broken. A bedroom light switch needs to be replaced and the sittingroom's light also needs replacing
in Roodepoort, Johannesburg
I just need someone to change one light bulb, by removing a stuck light fitting-cover, without ripping out the ceiling.also mount and install an electrical panel heater in my bedroom, on the wall. The electrician must have stock of extension cables and plugs (if it will be needed)
in Roodepoort, Johannesburg
I would like to get an electrician who can assess the spa bath electrical problem and give me a quote for repairing
in Roodepoort, Johannesburg
Would like to add sport lights /downlight in two rooms patio and lounge. Would also require a plug in the patio area
in Roodepoort, Johannesburg
There is electrical tripping in the house and some of the lights are no longer working
in Roodepoort, Johannesburg
Flouresent light in kitchen not working. New tubes replaced but light not switching coming on
in Roodepoort, Johannesburg
Install 2 x downlights, on existing light circuits. Replace extractor fan on same cuircuit(existing wire seems dead aso just to fan). Install 2 x new double wall mount plug points close to ceiling in cupboard. Mount enigizer outside. ( Mount weather proof power plug, cable already live and through wall) Mount enigizer against wall in enclosure provide. Disconnected from inside, cables pulled back outside and reconected to unit on floor atm.
in Roodepoort, Johannesburg
I need my plugs checked, some are not working and some are loose. There is one particular light bulb that switches on and off in the children's bathroom. I also need all the light bulbs not working to be changed.
in Roodepoort, Johannesburg
I am looking for a price quote on the installation of cooler lighting in my ceiling I am in a small flat which is has an open plan dinning and kichen and ounge area with two bedrooms and a passage.
in Roodepoort, Johannesburg
Advice on back up power Installation of surge protection Installation of flood light
in Roodepoort, Johannesburg
I need a COC for a flat. The stove has two platea tgat's not working needs fuses and two or three knobs for the plates are broken. A bedroom light switch needs to be replaced and the sittingroom's light also needs replacing
in Roodepoort, Johannesburg
I just need someone to change one light bulb, by removing a stuck light fitting-cover, without ripping out the ceiling.also mount and install an electrical panel heater in my bedroom, on the wall. The electrician must have stock of extension cables and plugs (if it will be needed)
in Roodepoort, Johannesburg
I would like to get an electrician who can assess the spa bath electrical problem and give me a quote for repairing
in Roodepoort, Johannesburg
Would like to add sport lights /downlight in two rooms patio and lounge. Would also require a plug in the patio area
in Roodepoort, Johannesburg
There is electrical tripping in the house and some of the lights are no longer working
in Roodepoort, Johannesburg
Flouresent light in kitchen not working. New tubes replaced but light not switching coming on
in Roodepoort, Johannesburg
>